Nick Z

     One day at work (set lighting), Janeane Garofalo sang "Don't Crash the Car" to me after a co-worker told her I played drums on it. It's nice to know after thirty years people still remember that song. The LA music scene was a lot of fun in those days, and I got to play in and with some pretty cool bands. To refresh my memory banks, I decided to write down all of the bands I've been fortunate to play with, and some of the good times. 

     Moving from my home in Western PA to Los Angeles  I was lucky enough to be at the right place/time and found myself in the middle of the LA punk/alternative scene. From 1987-1989 I drummed for Mary's Danish playing three tracks on 'There Goes the Wondertruck.' Don't Crash the Car Tonight received critical commercial and college airplay, and the video was often seen on MTV. Robert Hilburn of the LA Times voted us one of "LA's best up and coming bands"  with Steve Hochman (LA Times) calling us the best live act that same year. It seemed like one minute I was working in my hometown, and the next minute I am hanging out at shows with George Wendt, Jodie Foster, Perry Ferrell, Flea and Anthony. LA and The Valley in those days was everything depicted in "Fast Times".  Some of my old school friends that visited will agree. 

        In 1987 my first working LA band, The Outpatients, was managed by the same person that managed Mary's Danish. We did several shows together and I really enjoyed their raw sound. One could say it was a form of Americana. Both bands were playing a summer party our manager Jonathan Schweid put together in the Encino hills. I remember watching Mary's Danish do their soundcheck and really dug what I heard. Two vocalists with very distinct voices, two guitars one kinda surf garage and the other English '70's punk. A funk influenced bass that worked well with a country influenced drummer. Their live show was even better, I became a fan right away. After a few months Mary's Danish asked me try out and I became their permanent drummer.

My first recording session with them was engineered by Rudy Guess . He was such a patient and fun guy to work with. The lessons I learned from Rudy are with me today. The most important lesson was to just have fun and enjoy the experience. I was only in the band a week or so and we were recording demo's. At the end of one song, Rudy gave me the signal to do a roll (Bucket-a-Fish) typically heard at the end of a song. A Rock 101 ending that always makes everyone smile. That totally put me at ease, funny how I remember that. We also recorded at Radio Tokyo.  The Minutemen, Janes Addiction, The Long Ryders, The Bangles, Black Flag, Sonic Youth and The Decendents were a few of the artists that recorded there.

The walls were covered with graffiti from those bands, and the energy within those walls sure rubbed off. The Rudy Guess demo was picked up by KROQ DJ Ken Fusion. He was the first (if I recall) to play  'Don't Crash..'  The song became a hit in the Southern California area, and it soon broke nationally. Restless Records offered us a deal. Not sure if he received the total credit due him, but to the best of my knowledge, He discovered the band. The popularity of the song really grew and a friend of the band filmed the video for Don't Crash the Car Tonight. We filmed it at a club near the 10 and 405, and at The San Gabriel Mission. Around that time MTV had a call in show to vote for for the best video called Basement Tapes, we submitted it and came in second. Eventually the band was a regular on 120 minutes.

We played several times at the KROQ Local Music Showcase. We got to play with bands like The Red Hot Chili Peppers, Thelonious Monster, The Leonards,  Dramarama, Tav Falco & Panther Burns with Alex Chilton, Beat Farmers, Firehose, Yo La Tengo, Gina Schock, Geza X, The Pandora's, Redd Cross, Buck Naked and the Bare Bottom Boys, Easter (with Mike Ness) and countless other great local and touring acts.  Shows at Raji's, The Whiskey a Go Go, The Palomino, Celebrity Theater and The John Anson Ford Theater and the loft parties were among my favorites. 

UPDATE: Recently posted video of a show we did with The Red Hot Chili Peppers, John Frusciante's first show. 

     We would rehearse at a place called Hully Gully. Megadeth, DJ Bonebreak, Dwight Yoakum and others would rehearse there. Another place was called Yo! in North Hollywood. Peter Frampton was there regularly, as were a bunch of older Metal dudes. Next to Yo! was a professional rehearsal place (Van Halen, et al) called Leeds. We once played a showcase (1988?) for a record label.  (Playing to people staring at you while also determining your future is something everyone should experience) I remember the Stray Cats were in the room next to us gearing up for their reunion. On our breaks I would step out and listen to Brian Setzer playing incredible guitar. Our bassist and I got to jam once with Bob from Thelonious Monster at their Fountain Ave rehearsal house. When we came out, Flea and Anthony were there b.s.'ing with us.

     Early on we were compared to The B52's, X, and a few others. I always thought we sounded a lot like The Jefferson Airplane mixed with garage surf rock.  It was the late 80's and many bands like the Peppers and B-52's were out there, and some wore outfits that resembled psychedelic rodeo clowns.  My look was John Milner American Graffiti, white t and black jeans. 

We recorded a new version of 'Don't Crash' to replace the demo, and it was used on a KROQ Ken Fusion compilation called LA One. Around that time I met and became a fan/friend of The Leonards, who was featured on LA One.  Back in the studio for more demos around Thanksgiving 88. The band was moving away from its lighthearted style towards more serious subject matter.

My last show with the band was at The Palomino in Jan. of '89.  I had a fun time in that year and a half.  I furthered my craft with a cool bunch of musicians,  had some laughs, met some really great people. 91X in San Diego listed the band  # 479 on their All Time acts in the past 30 years. Don't Crash the Car Tonight peaked at #7 on the Billboard charts, and # 21 for the year 1989 on KROQ Los Angeles.

My closest friends from those days were and still are The Leonards.  I got to know them while playing shows together with Mary's Danish around the time of the LA One album. I responded to a drummer wanted ad they put in the local music paper. It was a really fun audition.  I was in the band from '89-93, and we recently played the Arts Beats and Eats festival in Detroit.  Lenny, Tom, and John all met at Central Michigan Univ, and were all from Detroit. I always knew about Detroit bands I.E. Iggy, and The MC5 but really got to learn about that music simply by hanging out with Detroiters. Sid Griffith once wrote about us 'There must be something diesel in the air or polluted in the water, because bands from the Detroit/Ann Arbor axis play in a way that reminds you that bands were playing punk there before it was invented in '76 by four guys from Forrest Hills."  

Paul Dugre recorded the first demo I did with the band. His PMS studio in downtown LA was amazing. I believe Los Lobos recorded Kiko there. We also played with some really cool artists. The Rave Ups, Rain Parade, Dream Syndicate, Rosie Flores, Yo La Tengo, The Muffs, Goo Goo Dolls, The Gun Club, Tommy Stinson, Billy Bremner, Peter Case, Beat Farmers, Thelonious Monster, even Keanu Reeves, among others. Rivers Cuomo from Weezer told our guitarist Lenny that their debut show was opening for us at Raji's. I recall Eddie Vedder and Chili Pepper Chad (Leonards friend from the Detroit days) being at several of our shows. George Wendt was at several of our shows too. He is a true rock and roll soldier. Lenny, Tom, and I even got to record with Mars Bonfire (wrote 'Born to be Wild') on a Skyclad Records compilation. Playing the clubs listed above we also toured the country several times playing CBGB's, Pittsburgh's own The Electric Banana, The Stone Pony, Steamboat in Austin, Fitzgerald's in Houston, and The Howlin' Wolf in New Orleans. While touring in Milwaukee, (The Peppers played the same club the week before) Chili Pepper Chad left a Birthday card for our bassist Tom.  

     As mentioned in a few reviews, the band didn't subscribe to any look or follow current fashion trends. We honestly didn't fall in with any scene, though bands in the Paisley Underground took a liking to us. Peter Case would see us, and even said we did a better version of "Million Miles Away" than the Plimsouls. We were humbled for sure. Tom and Lenny appeared in a film called "Acid Beach" along with Steve Wynn and The Droogs, as well as a Droogs video 'Call Off Your Dogs."
     
     The Leonards rehearsed at a place in Hollywood called R&R, one block south of Hollywood Blvd at Highland. It was not as high dollar as it is now, it was a dangerous part of town. You never knew what would go on there at any given night.  While practicing, guys like Little Steven Van Zandt, El Duce, and others would pop their heads in to check us out. We would hear Dave Wakeling and The English Beat rehearsing on the other side of the street. The lead singer from .38 Special wanted to have a drinking competition with Lenny at nearby Boardners. The 38 Special guy was 6' 5" or so and Lenny at 5'9" showed him who is boss. It's a Detroit thing. Guitarist Sloke did the same with Van Halen's Michael Anthony. Like I said, it's a Detroit thing. Down several blocks on Melrose was a musicians watering hole called Smalls K.O. Joe Strummer could be seen there regularly, and Keith Morris (if I recall correctly) would tend bar. UCLA students soon discovered the place, and within days a continuous line down the street made it impossible to get in.

     We were asked to be in a movie called 'Rock and Roll, It Don't Come Easy' starring Ruth Buzzy. The film never came out, but they gave us a copy of our performance. Here is a nice mention about our debut album in Trouser Press. One of our recordings was recently featured on TV's Ugly Betty. Our band photo was also featured on her refrigerator. Palermo's in Los  Feliz still has our picture on the wall. Tony Palermo and Tom were simpatico. 

      From 1995-1998 some friends (Kevin Barber) and I put together CC & The Jackpot Prize. This fun funky soul revue gave me the opportunity to play shows with Fishbone and Bud E Luv.  Fishbone called us 'the guys in the white tuxedo's.

     Currently I am playing in The Forty Nineteens and The Leonards. The Forty Nineteens CD's "Rebooted" track 'I'm Free' was given the Coolest Song in the World honors on Little Steven's Underground Garage.   We've supported Robin Zander Band, The Alarm, The Fixx, Gin Blossoms, Fleshtones, Berlin, Wang Chung, Gilby Clarke, LA Guns, and Gene Loves Jezebel. Recently I was included on the Pittsburgh Music History website. It is indeed quite an honor. It's also an honor to keep playing for those that want to listen. Rock on!
In the WDVE Coffee House with Randy Bauman Pittsburgh PA

Taking w/ KDKA's Rob Pratte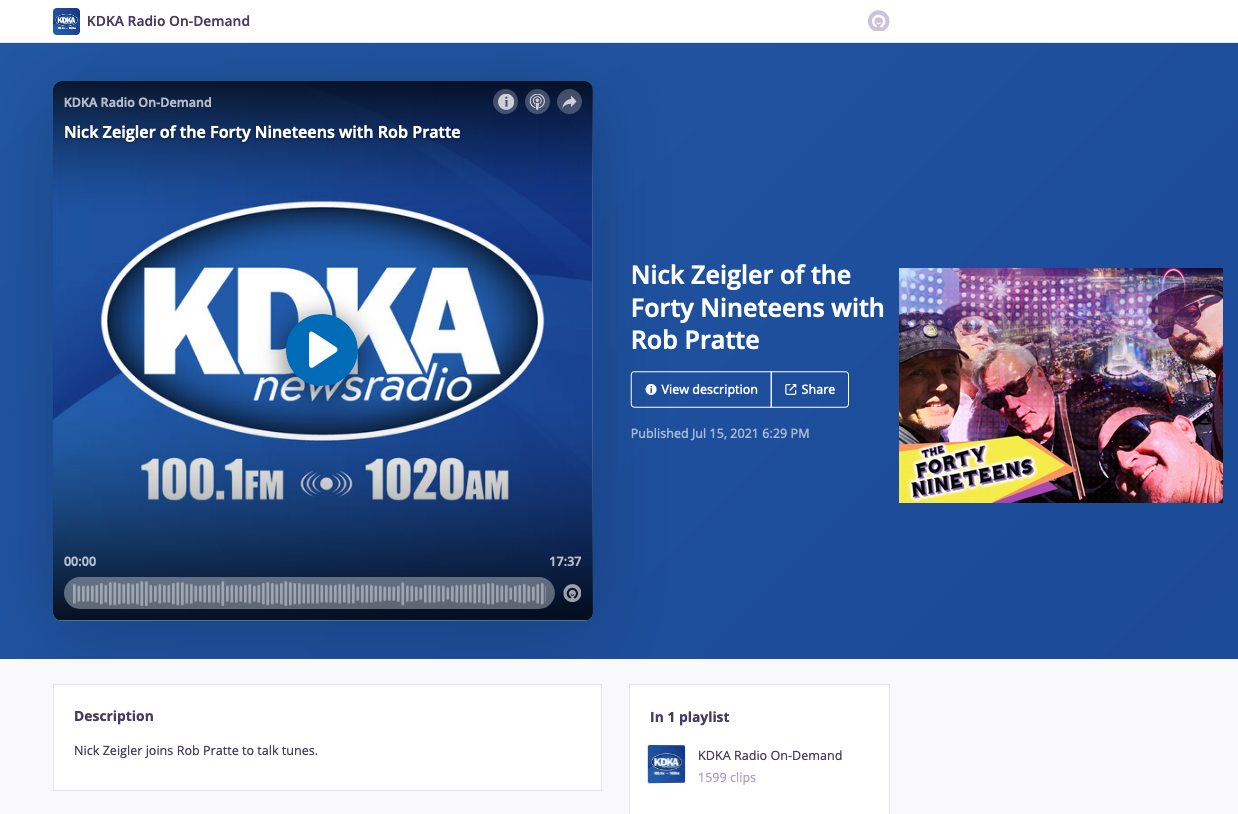 Included as an instrumentalist in the Pittsburgh Music History Website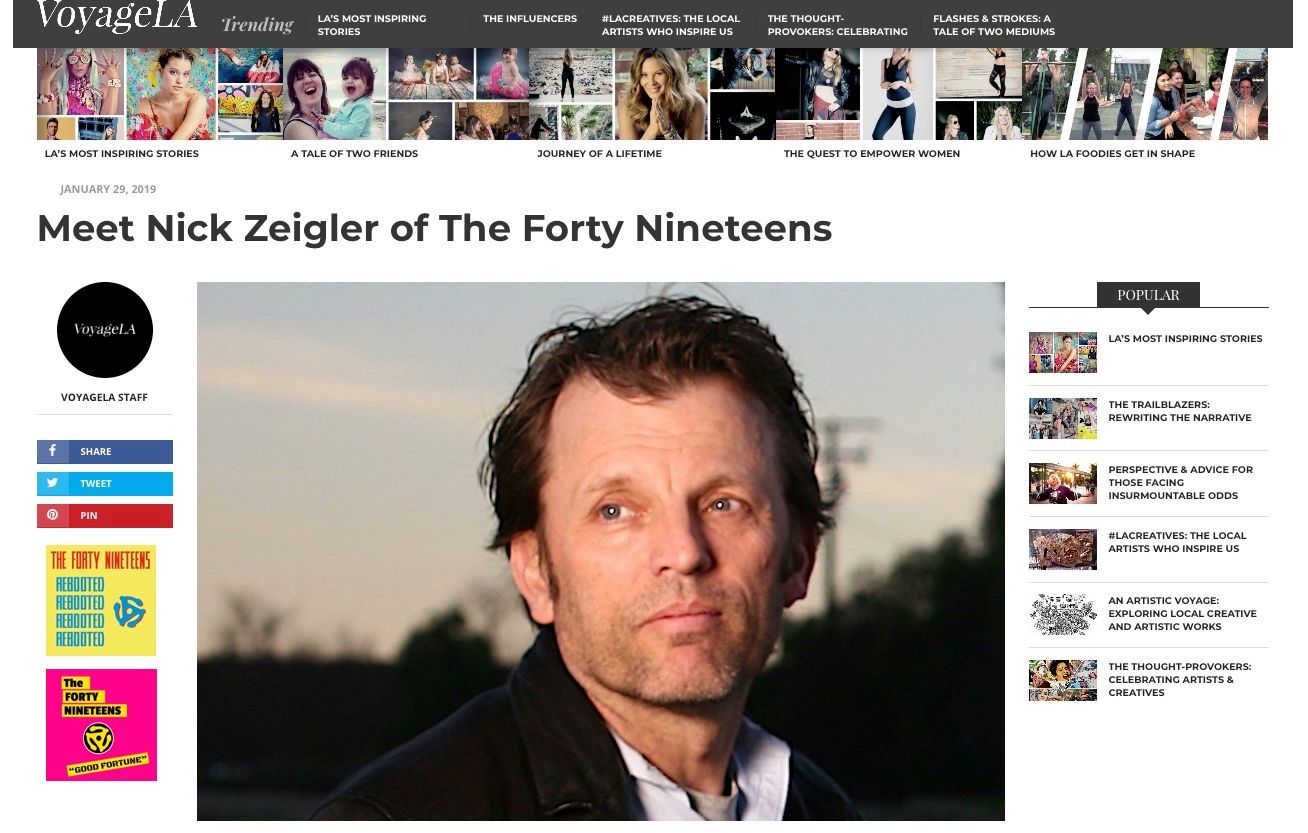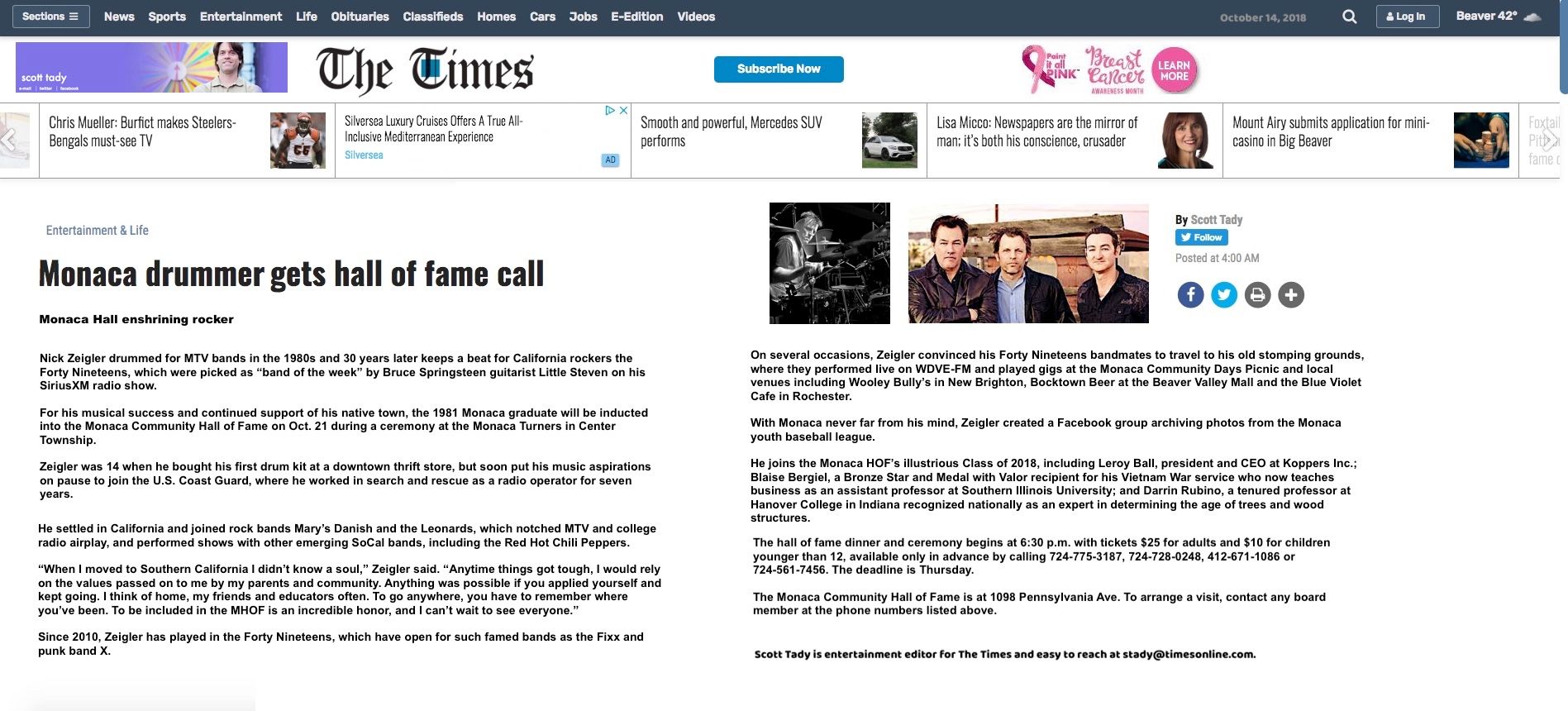 Having fun at Yankee Stadium with The Forty Nineteens
April 18, Scott Tady discussing our July 16 return to Beaver County
Aug 4, WLER The Rock Show Butler PA interview with Nick
May 24, In the WDVE Coffee House Live
June 2, Scott Tady reviews their May show in New Brighton
May 20, 2019 Best Pittsburgh Concerts this Week w/ Scott Mervis Post Gazette.
Jan 29, 2019 A fun interview with VoyageLA Magazine
Oct 3, 2018 Pittsburgh Post Gazette-Scott Mervis talks about The Electric Banana 
Chatting with Scott Tady and Frank Sparks on WBVP Radio 
A fun interview with our friends at VoyageLa Magazine

Honored to be in Pittsburgh's own The Electric Banana website
Press Enterprise Interview